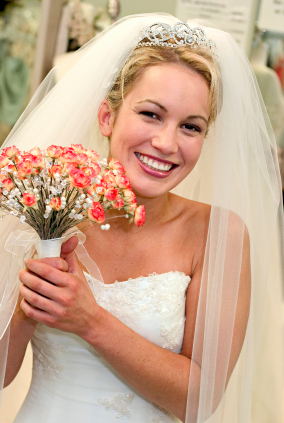 One of the things that may be you need to complement your wedding dress is Vail. Some argued that without the Vail, that have less in their marriage. Selection forms, materials and models should also be your wedding dress so beautiful to be seen more perfect.
Veils can be made in a number of standard lengths, including shoulder, waist, fingertip, mid-calf, floor, chapel, and cathedral length. Fingertip is the most popular option because it is very easy to wear for the entire wedding, including the reception. Many brides, though, love a veil that is as long as the train of their gown, and there are several ways to handle such a veil after the ceremony. Some brides will simply remove the veil, keeping only their headpiece on for the reception. This is a fine option, but often women just feel like less of a bride without a veil. For those brides, other options include having the veil bustled to the gown (especially if the veil and gown have matching lace) or gracefully draping the veil over one arm (often seen during the receiving line). Oftentimes, a bride will simply order a second, shorter veil or use her blusher (if she wore one) as a veil after the ceremony.
It used to be that a blusher was de rigueur, but many modern brides will skip the blusher unless it is customary in their religious tradition. Don't be too quick to dismiss the blusher, though. One man I knew was watching a movie with a wedding scene, and kept asking why the bride was not wearing a veil. Well, she was wearing a veil, a very long one, but she did not have a blusher over her face. To this man, and many others, the blusher is what really says "veil". If that is what your groom expects to see when you walk down the aisle, you don't want to disappoint him.
Once you have made the basic decisions about your veil, you can get into all of the exciting details. Most veils are tulle, but silk chiffon or organza are also available. Veils can be one entire piece of Belgian lace (these exquisite veils become family heirlooms), embroidered, trimmed in Alençon lace, finished with ribbons, satin bias trim, or beaded. A great way to bring your whole look together is to select a veil that will coordinate with your handcrafted bridal jewelry (or vice-versa). Swarovksi crystals and tiny beads look spectacular stitched along the edge of a veil. They also give the veil a good weight so that it will not be too flyaway.
Another way that veils are embellished is to bead a lace border with pearls and crystals. This is a rich and classic look which is often done using the same lace appliqué as on the bride's gown. To compliment this special type of veil, choose handcrafted bridal jewelry with the same crystals and pearls that were used on the veil. Simple, timeless earrings and necklaces are the perfect accent pieces to give the bridal ensemble a complete and polished look.
Veils are very fragile, so it pays to be cautious when handling them. If you must take your veil to a hair trial, keep the tulle inside the plastic bag, and pull the comb from the top of the bag for your stylist to practice putting in your hairdo. The last thing you need is for your beautiful veil to get snagged on something in the salon or stepped on by your hairdresser!
One more tip on caring for your veil: if your veil features a ribbon or satin bias trim, ask the bridal salon to carefully iron the edge after the veil has been steamed. It sounds minor, but it makes an incredible difference in how your veil hangs. After all, your veil is your crowning glory - you want it to look perfect on your wedding day. For many women, it is only once they put on their veil that they truly feel like a bride.
By : Phie